Imagine graduating with a job offer in hand.
And, being able to negotiate a salary that is 15% higher than most new engineering graduates receive.
That's just the start of what you can expect from the largest paid internship program of its kind in Canada.
Through the PEY paid internship program, you can earn an average annual salary of $50,000 and gain experience that will kickstart your career.
Check out the top 10 reasons students are choosing PEY.
Four ways to customize your PEY internship
Timing: Choose to participate in the PEY internship program after second or third year. Once your internship is complete, you'll return to school to finish your degree (many times with a job offer in hand).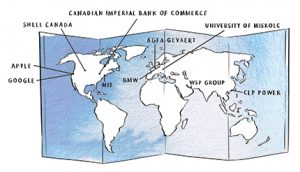 Duration: PEY placements typically last for 12 to 16 months. Up to one year of this experience can be applied towards a P.Eng. designation from Professional Engineers Ontario (that's your professional license to practice as an engineer in Ontario).
Location: Make local connections by working in Toronto, or gain international experience with a placement abroad.
Employer: Work at a small startup, a large international company or somewhere in between. Last year, 790 students had more than 1,800 paid internships to choose from.
Choose the PEY internship that works for you.
The PEY paid internship program is more that just a foot in the door. While on PEY, you:
Are a full-time employee
Gain extensive experience
Apply your engineering competencies to real industry challenges
Make meaningful professional contributions
PEY Quick Facts
It is nearly 40 years old, and the largest paid internship program of its kind in Canada
The program is completely optional
The average annual salary in 2015 was $50,000; the highest was $104,000
70% of PEY students receive a job offer before they graduate
There are more that 300 PEY employers worldwide
10% of PEY students worked abroad in 2015–2016