One of the most distinguished engineering programs in the world, Engineering Science (EngSci) is designed for students who are looking for an intense academic challenge.
In your first two years, you'll be immersed in engineering, math, science, computing and humanities. In your last two years, you'll choose from one of eight majors for accelerated, discipline-specific learning. Our students thrive in a close-knit community of exceptional individuals, creating an enriched and unique learning environment.
Engineering Science Majors
Aerospace Engineering

Biomedical Systems Engineering

Electrical & Computer Engineering

Energy Systems Engineering

Engineering Mathematics, Statistics & Finance

Engineering Physics

Machine Intelligence

Robotics
Sample PEY Co-op Employers
Airbus (France)
Google
Harvard Medical School (U.S.)
Scotiabank
Verity Studios (Switzerland)
Sample Career Trajectories
Roughly half of EngSci grads pursue graduate studies in engineering-related fields or professional degrees such as law and medicine. The rest enter the workforce in a wide range of careers across all industries, or start their own companies.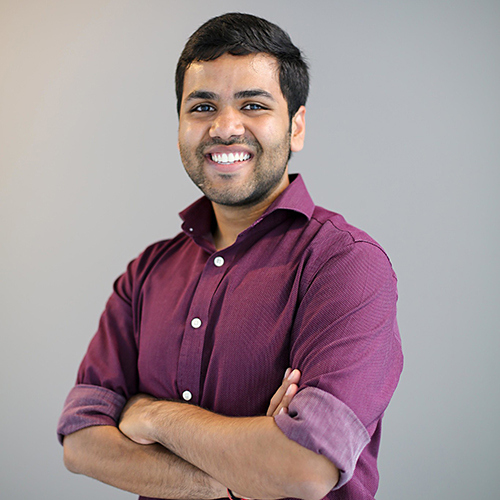 ENGINEERING SCIENCE ALUMNI PROFILE
Kramay Patel
---
EngSci Major:
Biomedical Systems Engineering (with a minor in robotics and mechatronics)
Graduation Year:
2016
Memorable Experience:
In second year, he travelled to Turkey as a National Science Foundation Fellow to learn about the intersection of bioinformatics and systems biology.
Fun Fact:
In 2020, Kramay co-founded Stitch4Corona, a volunteer-based initiative to produce face masks for Toronto's most vulnerable during the COVID-19 pandemic.
Current Job:
Vanier Scholar and MD-PhD candidate at U of T, focusing on neuromodulation, neurofeedback, brain-machine interfaces and human memory augmentation.
"I chose EngSci because I wanted a challenge — and it was one of the best decisions of my life. From academic learning to personal growth and amazing friendships, it was everything I hoped for and more. EngSci prepared me to be successful after graduating, not just through the wealth of knowledge I gained, but by helping me develop a personality that embraces challenges and chases the impossible."
Engineering Science First-year Courses
Fall Term
Structures and Materials - An Introduction to Engineering Design

Praxis I

Engineering Mathematics and Computation

Introduction to Computer Programming

Calculus I

Classical Mechanics
Winter Term
Fundamentals of Electric Circuits

Praxis II

Computer Algorithms and Data Structures

Calculus II

Linear Algebra

Molecules and Materials
* EngSci students may opt-in to a 4 month co-op term at the end of second year. 
DID YOU KNOW?
U of T is one of the few institutions worldwide to offer a program that integrates enriched science fundamentals with engineering. The EngSci curriculum is nimble with dynamic majors that evolve and anticipate emerging technologies.