Did you know that one in four U of T Engineering undergraduates are international students? Toronto and U of T is truly a global community where the world comes together.

No university in Canada — and few in the world — is in a better position to offer an education that will help you, the next generation of the brightest students meet the grand challenges that humanity now faces. You will study among gifted, driven and globally minded students who bring their own perspectives and passions to the mix. We celebrate and take pride in our historic diversity, with students from every Canadian province and more than 100 countries. 
U of T Engineering is Canada's #1 engineering school and among the world's best according to every major world university ranking.
A global education for future global engineering leaders 

Here you'll find a community of innovators and creators. We are at the forefront of engineering education and research — in the groundbreaking areas we explore, the ways we collaborate and the contributions we make to the profession. Major international rankings consistently rate U of T Engineering number one in Canada and among the world's best. We're preparing engineers of tomorrow — like you — to unlock our future's boundless potential. 
Some of U of T Engineering's globally oriented opportunities include:  
Global Engineering certificate

:

 

A

n optional 

set of courses you can take in parallel with your primary area of study

; 

completion leads to the U of T Global Scholars designation upon graduation.

 Global Engineering is one of 24 minor and certificate programs we offer at U of T Engineering. 

Research or study abroad

:

 

Spend a summer conducting engineering research or taking courses at one of our partner universities.

 

Work abroad:

 

Gain 

paid, 

professional experience 

in another part of the world through 

the Professional Experience Year Co-op Program.

 

Community development:

 Through student groups, projects and special initiatives, take part in community development in another part of the world. 
Read more on our Engineering for the World page for examples of how our students and alumni are making positive change in local and global communities.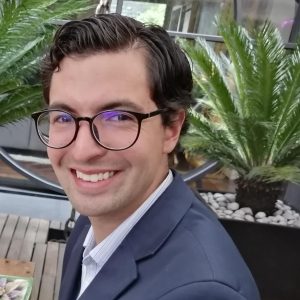 "My classes were led by world-class professors and filled with students from numerous cultures and backgrounds. This unique exposure to cutting-edge research and so many diverse perspectives was vital to shaping my approach to engineering design. My involvement outside the classroom was equally important in developing my global perspective. For example, through the student chapter of the Canadian National Electrical Contractors Association, I travelled to Mexico City to work on a street lighting project in a low-income community."

Ernesto Diaz Lozano Patiño joined U of T Engineering from Mexico City, Mexico. As a student, he represented more than 5,000 undergraduates as president of the Engineering Society, U of T Engineering's student government. He graduated from the Civil Engineering program in 2016 and completed his master's degree at U of T Engineering in 2018. Ernesto now works as a Sustainability Consultant at IBI Group.
A tight-knit community of 
brilliant
 minds

The U of T Engineering community is known for being especially spirited, supportive and closely knit. You'll attend many of the same classes with a core group of your peers, allowing you to create strong communities quickly, both inside and outside of class. We're proud of being the oldest engineering school in Canada and look forward to introducing you to our revered traditions.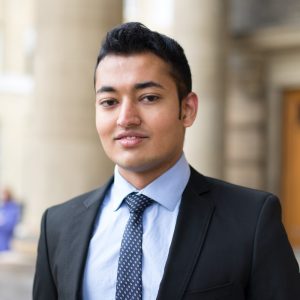 "Toronto was a big selling point for  me — both  in terms of lifestyle and professional opportunity. I really wanted to be where my field of interest was booming, and Toronto is quickly becoming the next Silicon Valley. Socially, the combination of being located in the heart of the city and living in  university  residence made a huge difference. I made a lot of friends,  and it soon became my new home. Surprisingly,  I've grown to enjoy the colder months!"

Piyush  Gupta joined U of T Engineering from  New  Delhi, India. As a student, he lived at Chestnut Residence and played a key role in organizing events and social activities  on campus  for students. He graduated in 2015 from the Computer Engineering program, with a minor in Engineering Business. Piyush now works as Vice President - Product Management at JPMorgan Chase & Co in New York.
An exceptional city to start your career
We offer a range of programs and opportunities that leverage U of T Engineering's partnerships within industry and academia across the world. This includes our optional flagship work-experience program Professional Experience Year Co-op (PEY Co-op). PEY Co-op is your opportunity to gain up to 20 months of professional experience while earning a competitive salary. PEY Co-op students often receive job offers before graduation.  
International students at U of T also have the opportunity to stay and work in Canada with a post-graduate work permit for up to three years after graduation. Whether you decide to stay in Canada for work or start your career elsewhere in the world, our graduates rank 16th worldwide for global employability.   


"I landed my PEY Co-op position as a software engineer in a firm that provides enterprise content management solutions and services. My manager and mentor recognized my leadership and communication skills and hired me back for product management work after co-op. This experience made me realize my passion for strategic thinking and client consultation, which helped pave a path for my current career." 
Annie Yang joined U of T Engineering from Chengdu, Sichuan in China. Prior to completing her co-op, she spent a summer doing research in a high-energy physics lab at the National University of Singapore. Annie graduated in 2018 from the Engineering Science program and now works for Deloitte as a consultant in Toronto.  
Specialized services and supports for newcomers to Toronto
Student success is a priority at U of T Engineering. International students sometimes face unique challenges as they adapt to life in university while also adjusting to a new country and culture. That's why we've put in place dedicated services and supports to help you transition and thrive as a U of T Engineering student.  

First Year Advisor,  Intercultural Learning & Experience 

In addition to general academic  advising, our First Year Advisor, Intercultural Learning & Experience helps our first-year students with  intercultural understanding and global  awareness through:  
Exploring cultural and global identities as a 

Canadian

 or international student in the U of T Engineering community

 
Recognizing the multiple ways that a person's culture can influence their

 

experiences

 and expectations in academic and personal contexts

 

Applying frameworks of intercultural communication to how you can successfully collaborate with academic teams and engineering community members

 

Creating your own intercultural competency and global learning goals to better engage with both your local and global communities




 
Centre for International Experience  

Located close to the engineering buildings on the south side of campus  is the University of Toronto's Centre for International Experience (CIE). The CIE facilitates student mentorship programs, immigration advising, international transition advising, advising on the University Health Insurance Plan and other supports for the University's diverse community of international students. Throughout the year, the CIE also hosts a number of events and programs that will connect you with other students or learn about U of T's extensive learning abroad options.  
U of T Engineering is committed to fostering an environment in which each member of our community can excel, contribute and benefit from different perspectives. Read more about how U of T Engineering supports Equity, Diversity and Inclusion within our community. 
Frequently Asked Questions