Our sense of community is built on a rich history that dates back nearly 150 years. Over the decades, U of T Engineering has evolved to include many events and quirks that have become celebrated traditions.  
But first, what is "

Skule

™

"?
In 1873, the Ontario School of Practical Science — the precursor to our Faculty — opened its doors as the first engineering school in Ontario. All students attended classes in a red-brick building they affectionately called the "Little Red Schoolhouse."  
Soon, students simply referred to the Schoolhouse as "School." Over time, students started spelling it "Skule" — likely as a way to poke fun at their reputation for not being the best at spelling.  
Even after the Schoolhouse was demolished in the 1960s to make way for the Medical Sciences Building, students continued to reference the community's spirit as "Skule." 
Skule Traditions
Many of the traditions below are upheld by the Engineering Society. Often called "EngSoc" for short, the Engineering Society serves as student government within U of T Engineering. EngSoc also oversees many of the engineering clubs and teams. When you join U of T Engineering as an undergraduate student, you automatically become part of the Engineering Society.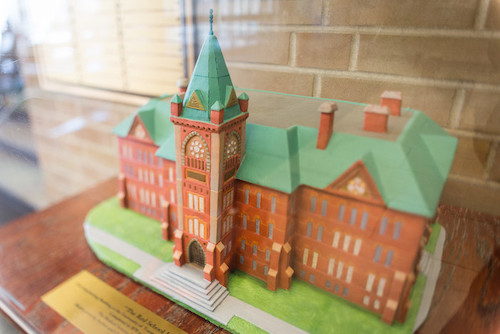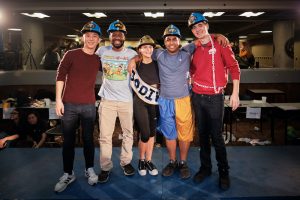 Blue & Gold Committee
The Blue & Gold Committee is Skule's official spirit committee. They host a number of community-engagement events, like the float they design and construct for the City's annual Pride Parade. They also operate an impressive inventory of tools that engineering students can borrow.   
Lady Godiva Memorial Band (LGMB)
Formed in 1949, the LGMB is known for its open membership and no-musical-talent-required policy. Their unique sound is a function of the wide range of instruments played, from trumpets and drums to traffic cones, paint cans and kazoos. LGMB plays at Skule events an often makes surprise appearances.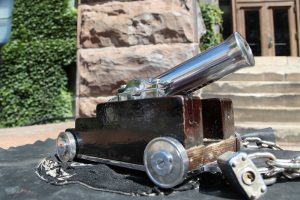 Ye Olde Mighty 

Skule

 Cannon
This is Skule's official mascot. Initially acquired by engineering students in 1898 from a parliament building, this little cannon is under the watchful eyes of a team of protectors called the "Cannon Guard." The Skule Cannon makes appearances at events throughout the year, usually accompanied by the LGMB.    

Dinner Dances
Engineering students trade their coveralls and hard hats for classier attire at dinner-dance events. Cannonball and Gradball are annual semi-formal events with delicious food, musical accompaniment (including LGMB), dancing and socializing.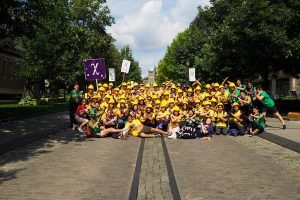 F!rosh Week
Also known as Orientation, F!rosh Week is often cited as being one of the most memorable events of the U of T Engineering experience. Designed by current students to orient incoming first-year students to Toronto, U of T and the Faculty, this week-long event is an amazing way to make friends and have fun.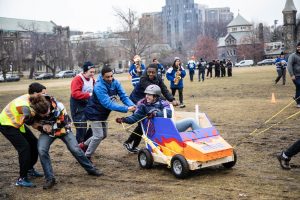 Godiva Week
Godiva Week is our second week-long festival of Skule. It takes place in the first week of January and involves races, a charity car smash and other fun winter activities.   

Skule Nite
Each spring, the Faculty comes together to enjoy a sketch comedy production called Skule Nite. The entire show is written and performed by engineering students.

Graduation Years
U of T Engineering students and alumni often include their graduation year after their name to denote their class. If you start first year in 2021, you will be part of the class of 2025, denoted as "2T5" after your name (pronounced "two-tee-five").

Iron Ring
You may have noticed that Canadian engineering graduates wear a ring on their pinky finger. The ring symbolizes the ethical and moral commitments that come with being an engineering professional. In your graduating year, you'll take part in an exclusive ceremony to receive your Iron Ring.