Innovation starts with an idea.
But for it to grow into something more, that idea needs a collaborative network of diverse peers, experienced mentors and an environment that invests in, and nurtures, entrepreneurial thinking.
U of T Engineering fosters the perfect ecosystem to see your ideas come to life, whether you're thinking about new ways to approach research, start a business or create a student team.
Innovation and entrepreneurship extend beyond the borders of our campus. We take full advantage of our prime location in the heart of Toronto, collaborating with our neighbours in the MaRS Discovery District, world-class hospitals, firms in Canada's financial district, and major multinational organizations headquartered here.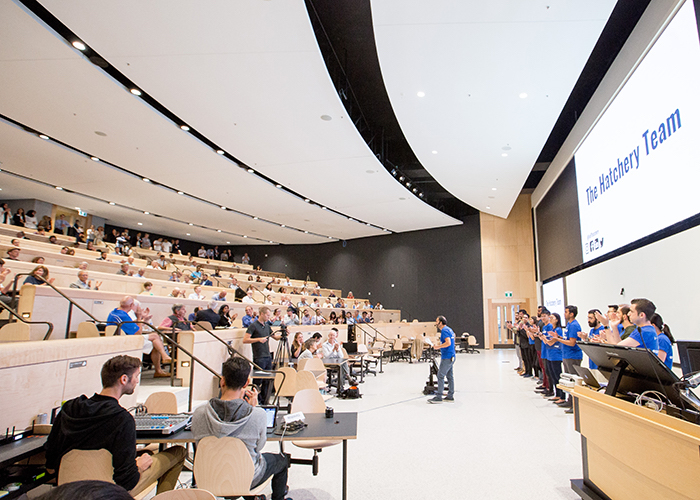 U of T is the top school among North American universities in the number of new research-based startups.

(*Source: Association of University Technology Managers)
Entrepreneurship Certificate & Engineering Business Minor
Entrepreneurship is an important part of being an engineer; many of our professors, researchers and students have started their own companies as a result of an idea sparked by creative thinking. To help you hone your abilities as an entrepreneur, you can pursue a certificate in Entrepreneurship or a minor in Engineering Business. The courses you'll take as part of either program will count toward your degree while helping you build important knowledge and business acumen.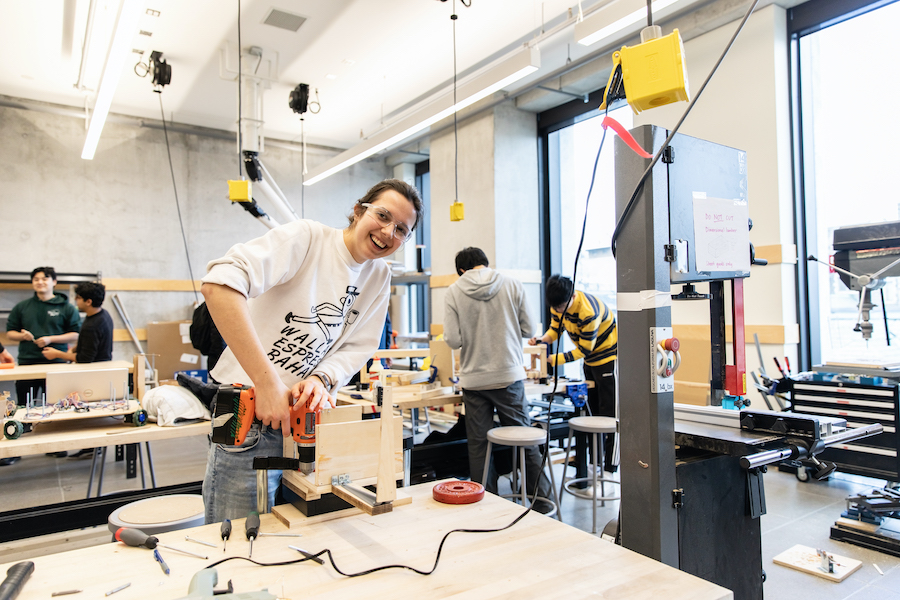 Fabrication Facilities
The Myhal Centre provides unparalleled access to prototyping equipment and collaborative design spaces to facilitate moving your big ideas from concept to realization. These facilities include:
Light Fabrication Facility with 20 workbenches, a variety of hand tools and power tools

Rapid Prototyping Facility featuring digital fabrication equipment such as a 3D printers as well as laser and water jet cutting tools 
The Myhal Centre's unique design spaces and technology-enhanced learning environments foster multidisciplinary collaboration between students, faculty, alumni mentors and industry partners, while prototyping and light fabrication facilities accelerate student innovations from concept to commercialization.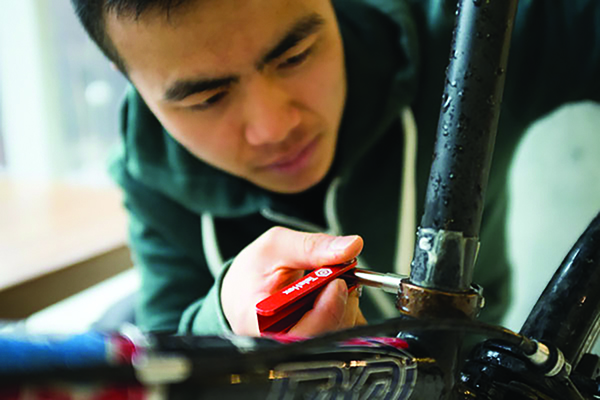 myPatent Series
You can also take part in the myPatent Series, an incubator program of workshops and seminars (created by one of our students) that teaches you how to search the patent database, file a patent and start a business.
The Entrepreneurship Hatchery
What does an AI-enabled e-sports coach have in common with a company working toward an in-space telecommunications network of satellites? Sparrow and Kepler are both successful companies started by students through The Entrepreneurship Hatchery, one of two startup incubators at U of T Engineering and among several accelerators across U of T. 
The Hatchery offers a comprehensive suite of programs and services:
Weekly Idea Markets, the Hatchery Speaker Series and the Hatchery Hackathon

INSPIRE

entrepreneurial interest in students

The annual Accelerator Weekend helps students produce, refine and

PITCH

ideas for startups

Co-Founders Day pairs students with a compatible

PARTNER
A rigorous summer program offers student teams access to prototyping funds, 3D printers, lab space and the opportunity
to engage with an experienced MENTOR

Hatchery Demo Day is a competition that gives leading entrepreneurs a platform to

INVEST

in top student startup ideas
Since its start in 2012, the Hatchery has facilitated the launches of nearly 100 student companies supported by over $95M in cumulative seed funding. The Hatchery resides inside our newest building, the Myhal Centre for Engineering Innovation & Entrepreneurship.