TrackOne is an undeclared first year designed for students interested in exploring all fields of engineering before joining a Core 8 program in second year.
Students in this program spend their first year taking a wide range of courses. This approach helps you discover your interests within U of T Engineering while developing a strong foundation in key engineering principles. After successfully completing TrackOne, you are guaranteed* a spot in the Core 8 program of your choice — Chemical, Civil, Computer, Electrical, Industrial, Materials, Mechanical or Mineral — for the remaining three years of your BASc degree.
The Introduction to Engineering course explores how each engineering field contributes to society, helping you choose your best fit within the Core 8 programs at the end of first year. Support from a dedicated TrackOne advisor will also help you with your decision.
The TrackOne curriculum is designed to parallel the courses taken by first-year students in the Core 8 programs. This allows TrackOne students to transition smoothly into second year.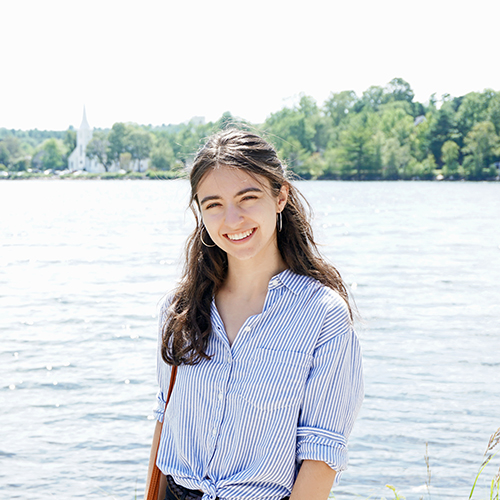 TRACKONE, UNDECLARED ALUMNI PROFILE
Sofia Mazzonna
---
Year of Study:
Third Year
Fun Fact:
Sofia has been part of the Blue & Gold Committee since first year. This Skule™ spirit committee organizes unique annual events, coordinates large community builds (like designing an impressive float for the annual Pride Parade in Toronto) and manages a library of tools and resources for engineering students. Before joining U of T Engineering, Sofia hadn't used a power drill before. Now she teaches others to use a variety of power tools.
Life after TrackOne:
At the end of first year, Sofia chose to pursue the rest of her degree in computer engineering. Now heading into third year, she hopes to land a co-op position in the tech industry.
"Being in TrackOne gave me the opportunity to hear from upper-year students and professors about each discipline. I was also able to explore different disciplines through my courses. These things helped me make an informed decision on which program was right for me."
TrackOne, Undeclared First-year Courses
*TrackOne students who achieve a minimum average of 60% in both semesters are guaranteed entry to the Core 8 program of their choice in second year.
Fall Term
(common to all Core 8 programs)
Orientation to Engineering

 

Engineering Strategies & Practice

 I

 

Mechanics 

 

Engineering Chemistry & Materials Science

 

Linear Algebra

 

Calculus

 I

 
Winter Term
Engineering Strategies & Practice II

Computer Fundamentals

Calculus II

Dynamics

Electrical Fundamentals

Intro to Engineering
* TrackOne, Undeclared students may opt-in to a 4 month co-op term at the end of second year. 
The TrackOne community organizes game nights, study groups, beach parties and an annual dinner-dance called the Eight Ball. Alumni of the program often sew a TrackOne patch onto their coveralls or jackets.