One of the World's Great Cities
U of T Engineering lies in the heart of Toronto. With more than 140 cultures represented throughout its neighbourhoods, Toronto is a welcoming place where the world comes together. As North America's fourth-largest city — growing faster than LA and New York City — and its safest, Toronto is a cosmopolitan hub for arts, culture, sports, technology and business.
Toronto
Click on the icons on the map below learn more.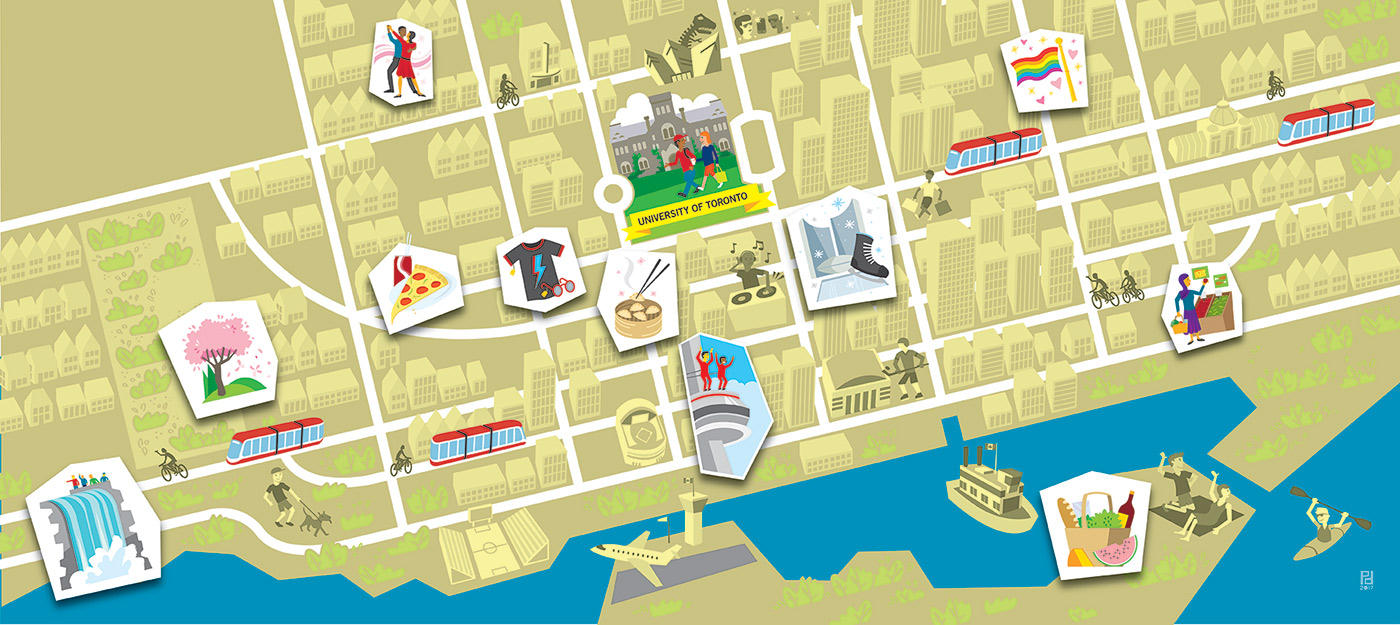 Niagara Falls
Located just two hours west of Toronto is Niagara Falls, a set of three waterfalls that straddle the international border between Canada and the U.S. Horseshoe Falls, the largest of the three falls, is the most powerful waterfall in North America.
High Park
Filled with gentle hills, gardens and ravines, High Park is the perfect spot to enjoy a picnic, bike or stroll. In the spring, take in the spectacular blooms of Japanese cherry trees. Be sure to check out High Park Zoo, which is free to the public.
Little Italy
There's much more than pasta and pizza in Little Italy! Located just west of campus — a 10-to-15-minute walk from U of T Engineering — is a goldmine for good eats, cinemas, bookstores and more.
St. Clair Avenue
Located a short subway ride north of campus is St. Clair Avenue, home to Corso Italia (also known as "Old Little Italy"). This neighbourhood hosts the annual St. Clair Street Festival, where they shut the street down for delicious food and dancing.
Kensington Market
With an eclectic mix of restaurants, cafes, grocers and vintage clothing stores, Kensington Market is one of Toronto's most unique neighbourhoods. It's just a 10-minute walk from U of T Engineering.
Chinatown
Chinatown is your one-stop-shop for fresh groceries, inexpensive housewares and dim sum. Located just 10 minutes from campus, this neighbourhood is always bustling with excitement. This is one of two Chinatowns in Toronto.
CN Tower
One of the city's most famous icons is the CN Tower. Most people know it for the incredible views, but did you know you can walk along its outer edge (not for the faint of heart!)? It is one of the world's tallest free-standing structures.
Nathan Phillips Square
Nathan Phillips Square is an urban plaza and home to City Hall. In the summer, the square hosts markets and celebrations, and in the winter it's the perfect place for a leisurely skate. The Toronto sign is a great place for selfies!
Church-Wellesley Village
Church-Wellesley Village, also known as The Village, is a vibrant, inclusive and diverse community. Each year, The Village hosts Toronto's Pride Festival, which is one of the largest celebrations of its kind in the world.
St. Lawrence Market
Located just east of Union Station is St. Lawrence Market, ranked the world's #1 food market by National Geographic. Handmade perogies, fresh-baked pies, local produce, imported cheese… no matter what you're craving, you'll find it here.
Toronto Islands
The Toronto Islands are a chain of small pedestrian-only islands just south of Toronto. Accessible by ferry, this is a great place to spend the day playing beach volleyball, cycling or just relaxing away from the bustling city.
BMO Field
BMO Field is an outdoor stadium and home to the Toronto FC (Major League Soccer) and the Toronto Argonauts (Canadian Football League).
Rogers Centre
Rogers Centre (originally called the SkyDome) is a multi-purpose stadium that is home to the Toronto Blue Jays (Major League Baseball).
Scotiabank Arena
Scotiabank Arena is a large-scale multi-purpose indoor arena that is home to the Toronto Raptors (National Basketball Association) and the Toronto Maple Leafs (National Hockey League).
Billy Bishop Airport
Billy Bishop Airport is the smaller of the two airports that serve Toronto. Situated just south of downtown Toronto, this airport is very easy to get to from campus.
Financial District
Located a few minutes away from U of T is Canada's Financial District. This bustling part of town is home to many world-leading companies and banks.
Toronto Eaton Centre
Great shopping is just a short subway ride away from campus at the Toronto Eaton Centre. This is one of Canada's largest malls.
Allan Gardens
Toronto is home to many beautiful gardens and parks, including Allan Gardens. This greenhouse is home to many gorgeous species of plants and flowers.
The Royal Ontario Museum
The Royal Ontario Museum is an incredible place to explore an impressive collection of artefacts from the past, from dinosaurs to mummies.
Entertainment District
The Entertainment District offers an exciting array of live music, dancing, restaurants and lounges.