Industrial engineers improve the way people interact with technologies and systems. They help organizations run safely, efficiently and profitably.
You will begin the program by learning the foundations of industrial engineering: operations research, programming and human-centered design. In your upper years, you'll take courses ranging from engineering psychology to data analytics to business process optimization. For their ability to see "the big picture," you'll find industrial engineers applying their expertise to every environment, from streamlining health-care systems to rethinking supply chains and the online user experience in the era of artificial intelligence.
Areas of Focus
Human Factors

Information Engineering

Operations Research

Artificial Intelligence & Machine Learning

 
Sample PEY Co-op Employers
eBay
Environment Canada
Ernst & Young
Royal Bank of Canada
Walmart
Sample Career Trajectories
Big Data Analytics
Health-care Engineering
Financial Analysis and Planning
Management Consulting
Project Management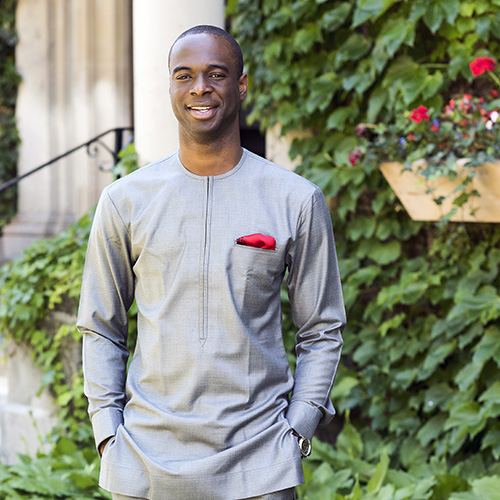 INDUSTRIAL SYSTEMS ENGINEERING ALUMNI PROFILE
Oghosa Igbinakenzua
---
Graduation Year:
2018
PEY Co-op:
He landed a job in Toronto with Deloitte, a financial services and management consulting firm
Memorable Experience:
For his fourth-year capstone project, Oghosa worked with his team, supervisor and client to create a website called Newvella. The site leverages AI and machine learning to provide readers with personalized book recommendations based on their tastes.
Fun Fact:
He was involved in several clubs and groups as a student, including serving as Vice-President Academic for the Engineering Society (student government), a soccer club and Engineers Without Borders. After graduation, he went on to become the President of Toronto's professional chapter of Engineers Without Borders.
Current Job:
Oghosa works as a Senior Consultant at Deloitte.
"Several of my courses helped me understand how businesses operate and how to identify areas to improve efficiency. My co-curricular involvement showed me that with the support of others, I have the ability to make significant and positive change within my environment." 
Industrial Systems Engineering First-year Courses
Fall Term
(common to all Core 8 programs)
Orientation to Engineering

 

Engineering Strategies & Practice

 I

 

Mechanics 

 

Engineering Chemistry & Materials Science

 

Linear Algebra

 

Calculus

 I

 
Winter Term
Engineering Strategies & Practice II

Fundamentals of Computer Programming

Calculus II

Dynamics

Electrical Fundamentals

Intro to Mechanical & Industrial Engineering
DID YOU KNOW?
Industrial engineering is closely tied to business and health care. U of T's connections to Toronto's financial district and hospitals give you a significant career advantage.