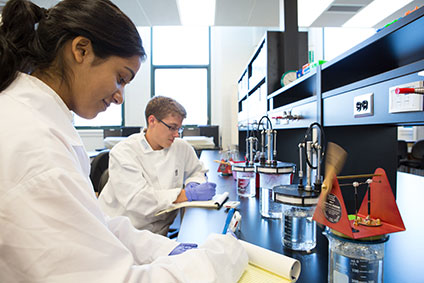 One of the most distinguished engineering programs in the world, Engineering Science attracts top students who are looking for a challenge. This enriched program is widely regarded as an innovator in engineering education.
During the first two years, you'll be immersed in a quick-paced, high-level study of:
fundamental math
science
computing
humanities
a breadth of engineering topics.
This multidisciplinary foundation of skills and knowledge is followed by two years of accelerated, discipline-specific information. In the third and fourth years, you'll choose to specialize in one of eight majors:
Aerospace Engineering
Electrical and Computer Engineering
Engineering Mathematics, Statistics and Finance
Infrastructure Engineering
Biomedical Systems Engineering
Energy Systems Engineering
Engineering Physics
Nanoengineering
As an Engineering Science student, you'll find yourself part of a close-knit community of academically talented, hard-working, creative and highly motivated individuals. Together, you will share in one of the most intellectually stimulating learning environments available.
What courses will I take in my 'foundational years' of the program?
First-Year Courses
Structures and Materials: An Introduction to Engineering Design
Engineering Science Praxis I & II
Engineering Mathematics and Computation
Calculus I & II
Classical Mechanics
Computer Programming
Systems Biology
Electric Circuits
Linear Algebra
Computer Programming or Free Elective
Praxis is one of the key academic components of the program in year one. It reflects the intersection of theory and practice — exactly where engineers do most of their work. You'll explore the relationships between your coursework and the real world. It is also where you'll have the opportunity to develop your creative potential and critical skills.
Second-Year Courses
Vector Calculus and Fluid Mechanics
Digital and Computer Systems
Engineering Society and Critical Thinking
Calculus III
Thermodynamics
Particles and Waves
Engineering Design
Molecules and Materials
Electromagnetism
Modern Physics
Probability & Statistics
Complementary Studies Elective
What will by upper years look like?
With your foundations in place, you'll be able to specialize in one of eight groundbreaking majors for your third and fourth years of study. The Engineering Science majors are:
Aerospace Engineering
Professors from our internationally recognized Institute for Aerospace Studies will teach you all aspects of aircraft and spacecraft engineering, from flight dynamics and aerospace propulsion to advanced materials and design. The aerospace industry is a major player in Canada's economy. Our graduates help keep Canadian companies at the forefront of innovation globally.
Biomedical Engineering
The first undergraduate program of its kind in Canada, the biomedical major prepares students for a career in this exciting field. The interdisciplinary curriculum builds strong foundations in both engineering and the life sciences. Our graduates apply their knowledge to the understanding, diagnosis, and treatment of diseases and health-related issues.
Electrical and Computer Engineering
In our highly integrated world, electrical and computer engineering are increasingly linked. This major will give you the background and flexibility to integrate knowledge in both fields so that you can develop existing technologies and invent new ones.
Energy Systems Engineering
This major addresses the global need for more professionals with expertise in this field. Energy is central to almost everything in nature, in society and the universe. Our economy depends on affordable energy. You'll learn to tackle some of the most pressing problems we face today in the areas of energy generation, storage and management. You'll also gain an understanding of energy issues from a public-policy perspective.
Engineering Mathematics, Statistics, and Finance
This first-of-its-kind undergraduate program teaches the financial theory that governs the dynamics of financial instruments and markets. You'll gain a strong understanding of how math and statistics apply in quantitative finance through the use of engineering tools such as optimization.
Engineering Physics
This program attracts students who recognize the creative potential of combining physics with engineering. You can customize your studies across a wide spectrum of theoretical and experimental physics courses.
Infrastructure Engineering
Physical infrastructure is a defining feature of civilization. In this major, you will learn to create safe, sustainable, economical and resilient structures and transportation systems. Your infrastructure designs will profoundly impact the economy, community and quality of life.
Nanoengineering
The first undergraduate program of its kind in the world, this major transcends the traditional boundaries between physics, chemistry and biology. You will learn how controlling shape and size on a nanoscale enables the design of smaller, lighter, faster and better-performing materials, components and systems. As a graduate of this program, you will have the potential to radically transform almost any sector, including health care, manufacturing, information technology, energy and transportation.
Careers in Engineering Science
Upon graduation, more than half our students pursue research graduate work in engineering and science, often at schools like Harvard, MIT and Caltech and other internationally renowned universities. Another 15 per cent pursue professional degrees in areas such as law and medicine. Many enter the workforce after graduation in a wide range of fields and are eligible to become licensed professional engineers.
Our graduates are in very high demand with employers, who find Engineering Science students fearless in pursuing any challenge.
Student Profiles
To get to know some of our students in the Engineering Science program as well as recent graduates of this program, please visit the Meet Our Students section.
For more information about Engineering Science at the University of Toronto, please visit the program website at www.engsci.utoronto.ca