WELCOME TO U OF T ENGINEERING, CANADA'S TOP ENGINEERING SCHOOL
We offer an exceptional learning community in downtown Toronto, one of the world's greatest cities.
Please explore this site or, better yet, book a campus visit to come and see us. We will show you how innovation, top-class research, a customized academic experience, and unique programs and activities make U of T Engineering right for you.

WHAT MAKES
U OF T ENGINEERING DIFFERENT?
Explore and find out »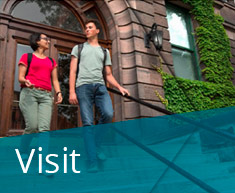 CONNECT WITH US
WHAT'S HAPPENING
APPLICANT UPDATES
Profiling PEY
What students and employers are saying about Canada's largest paid engineering internship program
Read More
Engineering Applicant Portal
Log in to your
Engineering Applicant Portal
regularly to check your admission status, track documents that have been received in support of your application, and submit any questions you may have using the portal's "Contact Us" feature.

DON'T MISS
Admitted Students: Get the Financial Aid presentation given at the Welcome to Engineering (W2E) event here.