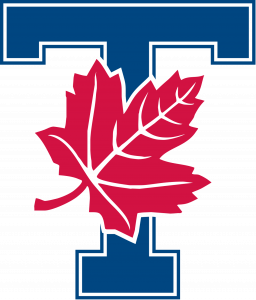 U of T Varsity Blues teams have won every major Canadian university sporting championship over the past century, from football's Vanier Cup to women's ice hockey. Varsity Blues swimmers have the longest running championship record of any swim team in Canada and several hundred members of Varsity Blues teams have qualified for Olympic Games and FISU (international university) Games, as well as Commonwealth and Pan Am Games.
U of T Engineering has a strong tradition of excellence in athletics. Every year, approximately 80 engineering student-athletes participate on a wide variety of Varsity teams. Additionally, our student-athletes are often recognized for their academic excellence. In 2017, Mechanical Engineering student and award-winning swimmer, Osvald Nitski was named U Sports Top 8 Academic All-Canadian
Facilities
U of T boasts modern athletic facilities, programs and professional staff on all three campuses.
The Goldring Centre for High Performance Sport is a multi-storey sport and exercise facility housing a 2,000-seat, internationally-rated field house for basketball, volleyball and other court sports, a state-of-the-art strength and conditioning centre, fitness studio, sport medicine clinic and research and teaching laboratories.
Varsity Centre, which includes a 5,000-seat stadium, 400m eight-lane track, state-of-the-art artificial turf field with a dome for winter use, and 4,000-seat arena – is a sport and recreation facility like no other.
With seven gymnasia, three pools (including the only Olympic-sized pool in downtown Toronto), a strength and conditioning centre, indoor track, dance studio, cardio machines, tennis and squash courts and steam rooms, there really is something for everybody at the Athletic Centre.
Support
The University and Faculty work with our student-athletes to support their academic and athletic goals. A number of resources are available through the University, Faculty and Varsity Blues program. Additionally, U of T Engineering has a student-driven organization run by and for the Faculty's student-athletes. Blues Engineering, supports our student-athletes through mentorship opportunities, study nights, special events, and community-building opportunities. In U of T Engineering, we all #BleedBlue!
Eligibility and Tryouts
All full-time students at the University of Toronto are eligible to try out for any of the Varsity Blues teams. All tryouts are posted online. Tryout start times are based on when the respective sport seasons start. Fall sports like football, rugby, soccer, lacrosse and softbal) have tryouts in August before classes start.
If you would like to express your interest in trying out for a Varsity Blues team and/or speak to someone about the program, complete the Prospective Athlete Form.
By the Numbers
964: Number of student-athletes who have graduated from U of T Engineering (as of 2013)
10%: While the undergraduate population in U of T Engineering represents 5% of the total student population of the St. George campus, the Faculty's varsity student-athletes represent 10% of all U of T Varsity athletes (numbers approximate as of 2014)
27%: Number of U of T Engineering student-athletes who were U Sports Academic All-Canadians in 2015-2016 (24/88)