Transfer student applies technical background in physics and pharmaceutical chemistry to pursue career in aerospace industry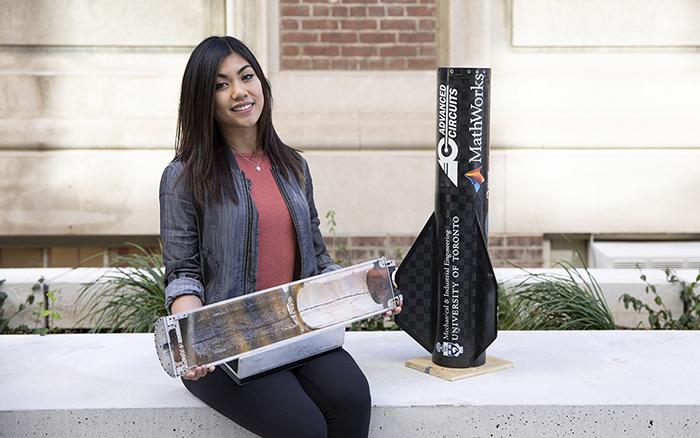 Rocketry enthusiast Joanna Hon (EngSci) shows off a cross-section of a hybrid engine fuel core and a recovered fin can. (Photo: Erica Rae Chong)
Although she was drawn by the promise of a career that helps people, Joanna Hon (Year 1 EngSci) wasn't passionate about her studies in pharmaceutical chemistry at the University of Toronto. After joining the University of Toronto Aerospace Team (UTAT), she decided to transfer to U of T Engineering. Hon sat down with Erica Rae Chong to discuss her experience and the process of switching from science to engineering.
---
What motivated your transfer to U of T Engineering?
Ever since I was a kid, I knew I really liked space. Pharmaceutical chemistry was something my parents wanted me to do, but at the end of the day, it didn't really light the fire in me. Whereas whenever I thought about space, or read books about cosmology or black holes, or if I watched astrophysics videos, that really captured my interest! So in my third year, while I was doing my Professional Experience Year Co-op (PEY Co-op) at a pharmaceutical company, I spent my free time volunteering with the University of Toronto Aerospace Team (UTAT). This was where I became exposed to different engineering foci working together to build a craft we were all excited about. Because of this experience, it was firmly reinforced that a career in building and designing applications for space exploration was the kind of career I needed to pursue
What was the deciding factor for you?
UTAT played a major role. I spent all my free time that year designing a satellite with the Space Systems Division and that's when I really saw opportunities I never thought of. For the first time, a career in the space industry looked like something I could achieve. Also, looking at the companies I was interested in working for, a majority of the positions were engineering-related — test engineer, guidance navigation engineer, propulsion engineer… there was just one scientist position. I would really enjoy being a scientist but the odds of me ending up in that role in a company I wanted to work for are comparably lower. My chances are higher if I come from an engineering background so that's why I switched.
Was it challenging to switch programs in your third year?
It was really, really tough — I thought about it for four months! Funny fact: I actually got into U of T's Engineering Science program in 2014, but I chose Life Sciences because my interests were different then. When weighing my options to switch, my thought process was that if I invested in an extra two or three years now, I may end up in a happier place in the future where I feel more fulfilled. Whereas if I continued in my program and graduated, it's like, 'Great! I have a piece of paper but does it add any value to my future?'
How smooth was the transfer process?
It was surprisingly easy. I just went through the regular application process that all incoming students go through and I just had to fill one extra form for students transferring within U of T. I also got a few transfer credits from some math and physics courses I had taken in my previous program.
What have you enjoyed most about your experience so far with U of T Engineering?
I love the community, I love the culture! Everybody understands what everybody else is going through and I think that's what brings everyone together. It builds a certain kinship. I also really enjoy being surrounded by people who are intellectually stimulating. It really pushes you towards developing yourself. Plus,  Engineering offers so many options to support you and is really good at stretching you in ways that force you to figure out what you want to do.
Can you share one U of T Engineering project you're working on or are especially proud of?
Over the summer, a competition called the Base 11 Space Challenge was announced. It's a competition open to university or college students in North America and the challenge is to launch a liquid fuel single stage rocket past the Karman line, 100 kilometres above sea level. The first student team to do so wins a million dollars! So far, we are in the early design phases. I'm working with the team on concept designs and finalizing our concept of operations, as well as connecting with sponsors and sources of funding for our project. I am proud that UTAT Rocketry is one of the participating teams and am excited to see where this will take us.
What's next for you?
Oh, I've got some goals! My dream job would be to merge my love of particle and nuclear physics with rocketry to create sustainable, high-energy propulsion technology. I'm talking crazy stuff like nuclear fusion engines on rockets or antimatter propulsion. The greatest thing about these sustainable methods is that if successful, the technology can be adapted to future large- or small-scale use on Earth and we can say bye to fossil fuels!
Learn more about transferring to U of T Engineering from within the University of Toronto