Nanoleaf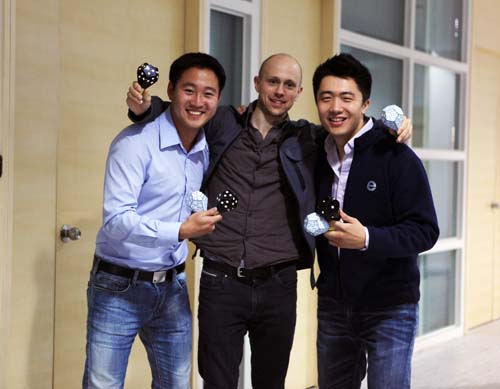 Nanoleaf Founders (from left to right):
Gimmy Chu | BASc, Electrical Engineering, 2006
Tom Rodinger | PhD, Institute of Biomaterials and Biomedical Engineering, 2007
Christian Yan | BASc, Electrical Engineering, 2006
These three U of T graduates founded Nanoleaf, a company that manufactures and sells the world's most energy-efficient light bulb. The Nanoleaf LED light bulb lasts 30,000 hours (which translates into three hours a day for 25 years), using only 12 watts of electricity while generating the same amount of light as a 100-watt incandescent light bulb. The trio used Kickstarter to raise more than $270,000 in startup money through crowd funding.
"U of T was a good atmosphere for entrepreneurship – it's a really dynamic place with different cultural backgrounds and people who are really smart. U of T provided a great platform for everyone to combine business with engineering."
– Christian Yan
"I never started working on Nanoleaf with the idea of being an entrepreneur. It was more focused around building a product. To me, building something from just an idea, and creating a company that makes a difference, is the best feeling in the world."
– Gimmy Chu
"U of T provided tons of resources. The professors had open doors and you could come and talk to them about any problems. They are the top people in the country."
– Tom Rodinger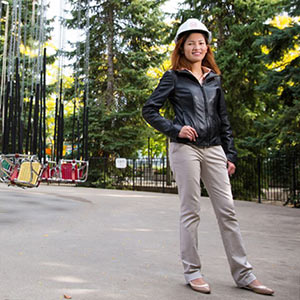 Joelle Javier | BASc, Materials Engineering, 2010
Engineer-in-Training, Technical Standards and Safety Authority
Not many engineers get to add "thrill-seeker" to their resume, but for Joelle Javier, it's essential. As a safety specialist in amusement park rides for Ontario's Technical Standards and Safety Authority (TSSA), she makes sure devices stand up to diehard adrenaline junkies."I get to imagine the worst thing a person could do to make the experience more fun," she says. "I try to push the boundaries of the design, and then test it for safety."
Javier reviews design submissions for new rides and inspects existing installations at the Canadian National Exhibition (CNE), Canada's Wonderland and other parks. Relying on her knowledge of materials science – and especially her training in failure analysis at U of T – she pinpoints the potential causes of equipment malfunctions. She also meets with international committees to develop standards for the newest thrills, like zorbing and ziplining. "The industry is growing and there are gaps in expertise," she says. "In the future, I'd like to combine my skills and knowledge to design new rides."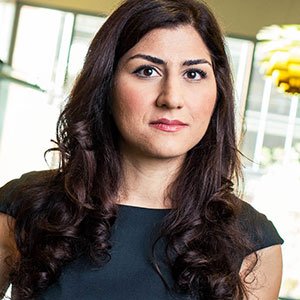 Maryam Modir Shanechi | BASc, Engineering Science, 2004
Assistant Professor, Ming Hsieh Department of Electrical Engineering, University of Southern California
Named one of Technology Review's Top 35 Innovators under 35 for 2014, Maryam Shanechi ranks among the world's most promising young brain researchers. She has been tapped to join the Obama BRAIN initiative, a $300 million brain mapping collaboration that has been compared to the Human Genome Project in scope. A PhD graduate from MIT, Shanechi's work with brain-machine interfaces combines technology with neuroscience to decipher the brain's electrical signals, potentially allowing researchers to manipulate those signals to treat neuropsychiatric disorders like depression. It could also help paralyzed patients move robotic limbs using only their thoughts, and automate anesthesia using feedback from the brain during surgery.
She credits her undergraduate experience at U of T Engineering with giving her the tools to pursue her passion for neuroscience. "At U of T, I learned how to be an independent thinker and forge my own career path," she says. "I got the best possible education as an undergrad, which prepared me well for graduate school at MIT."
AeroVelo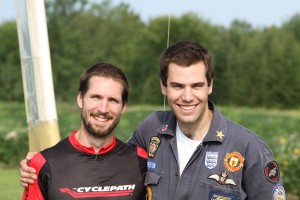 AeroVelo Founders (from left to right):
Todd Reichert | BASc, Engineering Science, 2005 | PhD, U of T Institute for Aerospace Studies, 2011
Cameron Robertson | BASc, Engineering Science, 2008 | MASc, U of T Institute for Aerospace Studies, 2009
AeroVelo designs human-powered vehicles that challenge the impossible. Projects include a helicopter, an ornithopter and an aerodynamic bicycle capable of reaching speeds of over 77 mph. In 2013, AeroVelo's Atlas human‐powered helicopter won the American Helicopter Society's 33-year-old Igor I. Sikorsky Challenge and its $250,000 prize.
"The amazing thing about U of T Engineering is that no matter what you're interested in, you can find a group of people who share your passion. The course work gives you a great theoretical base, and the support for hands-on projects and student groups creates a winning combination."
– Todd Reichert