What if you could graduate with a job offer already in hand? What if that job paid you 15 per cent more than most other new engineering graduates?
That's just the start of what you can expect from U of T Engineering's Professional Experience Year Co-op (PEY Co-op) program, the largest optional paid work experience program of its kind in Canada.
Through your optional PEY Co-op, you can:
Earn a competitive salary (average: more than $50,000 per year)
Work anywhere in the world, from Seoul to San Francisco
Gain valuable experience, contacts and networking opportunities before you finish your degree
"For me there was no waiting period; from the first day I was in the thick of it." — Adam Di Biasi, Mechanical Engineering student who spent his PEY Co-op at Tesla in California
Tailor-made for you
Your career is unique, so why should PEY Co-op be any different? Customize your experience in any or all of the following ways:
Timing: Choose to participate in the PEY Co-op program after second or third year. Once your placement is complete, you'll return to school to finish your degree, often with a job offer in hand.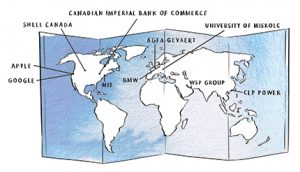 Location: Make local connections by working in Toronto, or gain international experience with a placement abroad. Nearly one in 10 PEY Co-op students work outside of Canada.
Employer and Industry: Whether you want to work for a local startup like Wattpad, a large multinational company like Shell, or a leading-edge research lab at the Massachusetts Institute of Technology, PEY Co-op has got you covered. There are more than 1,500 positions available from more than 325 employers, including Apple, Tesla and Google.
Duration: PEY Co-op typically lasts for 12 to 16 months. During this time, you'll be treated like a full-time employee and have the opportunity to make a meaningful contribution to your company, and focus on your placement without having to switch between work and school each semester. Even better, your experience can be applied towards a P.Eng. designation from Professional Engineers Ontario, meaning you'll have a head start on earning your professional engineering license after graduation.
Options: Participating in PEY Co-op is optional, so you can focus exclusively on your studies if that's what works for you. More than two-thirds of U of T Engineering students choose to participate and gain experience in their field.
"Working for a full year rather than a four-month summer term allowed me to make an important and meaningful contribution." — Paige Clarke, Mineral Engineering student who spent her PEY Co-op at Vale Canada Inc.
PEY Co-op Quick Facts
PEY Co-op has existed for nearly 40 years, and has established strong relationships with leading industry partners. Many employers hire primarily, or exclusively, through U of T Engineering's PEY internship program.
The average annual salary in 2016-2017 was more than $50,000; the highest was $88,000.
More than half of PEY Co-op students receive a job offer before they graduate. Exit surveys show that they are able to negotiate a starting salary that is 15 per cent higher than other new engineering graduates.
"The calibre of PEY Co-op students that join us is incredible. The students that we hire are not only top of their class from a technical perspective, but they are also very creative, great communicators and ready to take on any challenge." — Coby Segall, Electrical Engineering alumnus and PEY Co-op employer, Zebra Technologies