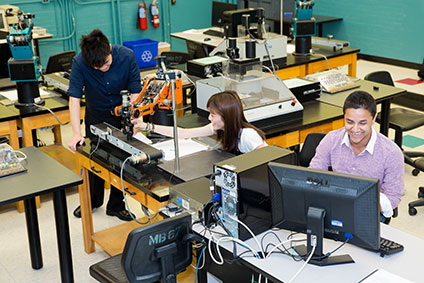 Mechanical engineers focus on how things work. Most objects — chairs, micro-robots, medical devices, power plants — are designed using mechanical engineering principles.
Our Mechanical Engineering program is internationally recognized for its range of course offerings and its applied, practical curriculum. Theory is augmented with hands-on learning in labs and in the field. As a mechanical engineering student, you'll study the physical principles of an object's design:
its appearance
how the individual components work
how to manufacture it
how to make it safe, economical, efficient, easy to use and environmentally responsible
In fourth year, you'll be part of a student team working with an industry client to solve a real problem facing his or her company.
Mechanical engineers design aircraft, plan a building's ventilation system and improve sustainable energy technology. They also save lives through biomedical technologies — the world's first artificial heart was partially designed, manufactured and implanted using mechanical engineering principles. The explosive growth in computer power is harnessed by mechanical engineers for the design and development of new 'smart' products, such as micro-robots.
Sustainable energy is a research focus within the program: making fuel from sunlight, developing low-emission combustion processes and inventing renewable technologies.
What courses will I take in first year?
Calculus I & II
Linear Algebra
Fundamentals of Computer Programming
Mechanics
Engineering Strategies and Practice I & II
Dynamics
Applied Science: Materials
Electrical Fundamentals
Seminar Intro to Mechanical and Industrial Engineering
Ethics in Engineering
Areas of Specialization
After second year, you'll be able to specialize in one of the following areas:
mechatronics
manufacturing
solid mechanics & design
energy & environment
bioengineering
Careers in Mechanical Engineering
Mechanical engineers understand the world as parts in motion and they're always in demand in the marketplace. Our grads pursue traditional careers in areas like automotive design and power generation, plus a vast array of non-traditional jobs like designing communication systems, computers, low-carbon technologies, nanotechnology, composite materials and physical structures that can withstand earthquakes and wind.
Student Profiles
To get to know some of our students in the Mechanical Engineering program as well as recent graduates of this program, please visit the Meet Our Students section.
For more information about Mechanical Engineering at the University of Toronto, please visit the program website: www.mie.utoronto.ca